Online video is now a popular content medium for businesses around the world, the recent events around the boom of Tik Tok is a clear illustration of how web users are now devouring content. Today, explainer videos are used for marketing and promotion purposes to inform, inspire, and engage potential customers. Explainer videos can be used to introduce a range of products or services, business processes, trainings, guidelines, etc. In turn, they establish or enhance brand credibility. It is said that 90% of buyers finds these videos helpful when making a purchase, 90%!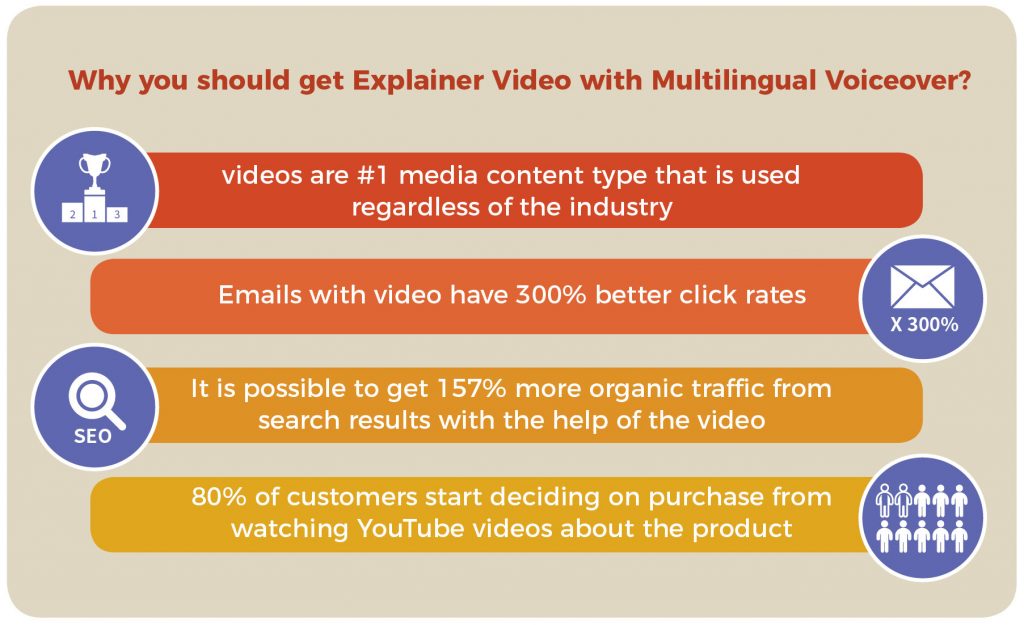 For those who may still wonder what an explainer video is, here below is an extract of one of the most viewed explainer video in this year.
Audiences enjoy video content, especially when it delivers messages along with great visuals and storytelling. Motion graphics with a well-designed story and conversational, clear voiceover narration help make explainer videos an effective way to introduce new information. The explainer video genre has turned the habit of explaining information into a novel art form. The voiceover for explainer videos is thus an important element. Explainer videos are less sophisticated in terms of style of voice, requirements and resources compared to video games. Yet there are still challenges that can make or break explainer videos.
WHAT CAN MAKE OR BREAK EXPLAINER VIDEOS?
Explainer videos convey complex information to a target audience within a limited timeframe. While lip synch is not required because most of the videos will be animation videos, time synchronization to the motion graphics is critical. Key facts are thus presented in contrast to details. Since explainer videos have a relatively faster speaking speed with flawless – continuous voiceover, someone inexperienced in voiceover could fail in terms of voice tone, clarity, and inflection. Searching for a voice that can represent the brand is also challenging. It is crucial to find voice talents who can guarantee a more polished and credible recording output. It is often difficult to find an authentic voice that can form a strong connection with the target market. Voiceover professionals understand that the right voice can draw in a larger audience. This is why professional voice talents for explainer videos are a necessary choice. To urge its viewers to watch the video from beginning to end, it must sound authentic and convincing.
Key factors of successful explainer videos include a well-organized script, reduced length of presented information through verbal and visual channels, clear focus, engaging and persuasive storytelling with effective visuals, AND the right voice that will take you through the story. These elements are some of the issues that must be considered.
HOW EXPLAINER VIDEOS CAN BE FULLY MAXIMIZED
1. Voice samples casting
When viewers are being presented with brand new information, they want to hear a voice they can relate to and identify with. While explainer video voice requirements are much less extensive (than video game voiceover for instance), sample selection and validation of the voice talents are essential. People expect a brand to be consistent in order to get the overall brand message and purpose. So choosing an explainer video voiceover means finding a voice talent that matches with the traits of the brand persona.
2. Script review, polishing and adaptation
Explainer videos consider elements like storytelling and multisensory, all while lasting only a few minutes. This needs a carefully written script with specific time codes so that the correct words and audio are aligned in the foreign language. It also requires preliminary deep review of the translated text. During the translation phase, translators often do not consider the limited timeframe for each sentence. When translated text is significantly longer, the translation may need to be adjusted accordingly or the resulting voiceover will be unnatural or too fast.
3. In-house Language Manager
There is a huge market potential for providing explainer video in more languages. With the right team, explainer videos can be easily localized to foreign languages. To avoid incorrect audio which detracts from the user experience, localization partners must have internal multilingual language team to internally review the recording delivered for quality assurance prior to client delivery. Internal native speaker capabilities is a great advantage to strengthening the overall quality. Similarly, having a pool of talent available at all times will ensure that the project moves forward in a timely fashion without delay. A project manager will ensure that voice talents take into account the native language standards such as pace, tone, pronunciation, or words to be emphasized.
BUILDING THE RIGHT PARTNERSHIP
Everything is easier with a capable multimedia localization partner. Professional process and resources applied for this particular type of project is critical. Selecting a partner that can not align an experienced team for explainer video projects often lead to disappointing results. For instance, it may often lead to a failed project that does not meet the expected marketing outcome and engaging presentation or one that went beyond budget and control in which neither the client or the service provider would feel satisfied at delivery.
At Clearly Local, we see voiceover as a crucial part of multimedia localization of the future. Our industry-leading localization platform was built specifically with these types of complex projects in mind.